Whether it's enveloped in a sticky, sauce glaze, adorned with cloves, or enriched with the smoky flavour of delicious fruits, a juicy ham makes the world's most delightful festive meal. We've got tips and tricks to ensure our tasty treats—like our show-stopping ham recipe—come out just right for you this festive season.
Which ham is the best for me?
For an incredible flavour and a guaranteed juicy ham, we recommend one of our smoked bone-in Christmas hams. Infused with a subtle smoky flavour that complements any glazed ham recipe, we have a vast selection of 100% Australian, bone-in leg hams to choose from, each more decadent than the last.
Half hams come in two types: chump end and shank end. The shank end is the most well-known end of the whole leg and sports the eye-catching shank at the top, making it very easy to carve. It's also known for its signature pink colour, which adds a visual feast to your table. The other type is the chump end, shaped much like a dome which contains part of the hip bone and is harder to carve. It has less meat than the shank end, although it's very tender and flavourful.
Should I take the rind off?
The most controversial part of cooking a Christmas ham seems to be whether or not to remove the rind. We have done extensive testing and can confirm a Christmas ham is best with the rind removed.
The main reason being the flavours from the glaze and other sauces are stopped by the rind and cannot seep into the fleshy part of the ham during the cook. This is crucial for those baked ham recipes where the sauce glaze creates that delicious, caramelized coating.
For this reason, we suggest trimming the rind off. Fully cooked ham rind does not crisp, so the rind will only hinder your ham's flavour.
How to cook your Christmas ham
A truly beautiful scored, glazed and roasted ham has the power to transport you back in time—to stop a conversation at the dinner table or to cause an irrevocable smile.
A perfect Christmas Ham can remind you how people use food to connect, and we're going to show you just how easy it is to make one of the most delicious recipes around. You can view the recipe below or see the step-by-step instructional video here:
Directions
REMOVE THE SKIN
Using a small sharp knife, carefully slice around the shanks in a zig-zagging pattern, about 10 cm away from the end. Run a knife underneath the rind, around its edges, and gently lift the rind up in one piece using your fingertips.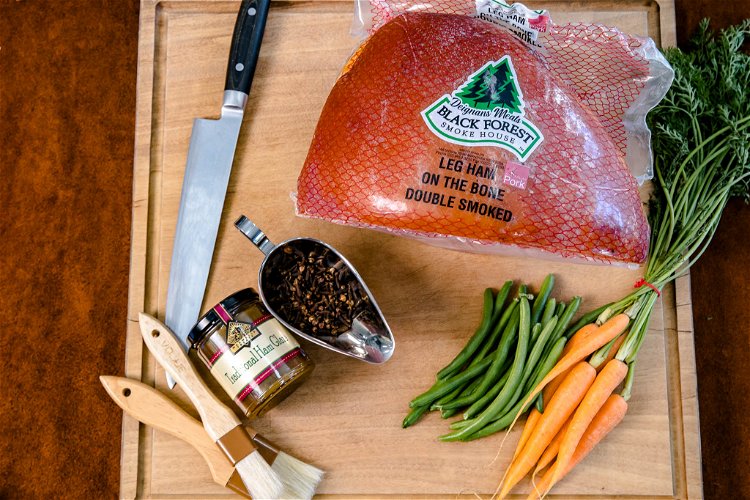 SCORING
To score your ham, you will need your trusty, sharp knife. Remember to let the knife do the work. Trim fat off before you start scoring; don't take too much off but remove any hard fat to ensure your glaze can penetrate through to the meat.

Score your fat in a diamond pattern; if it's easier for you—draw your straight lines first and criss-cross second if you are not confident. In these diamonds will go your cloves. Cloves are a strong flavour—if you aren't a huge fan of cloves, make your diamond scores further apart to use less.

Just cloving every second or third diamond is effective, but less attractive when it comes to presentation.
GLAZING
Preheat your oven, or BBQ to 180c
Using a pastry brush, brush your traditional ham glaze all over the fat of the ham. Do this over a bowl or paper towel so that it can drip through. Alternatively, use a wire roasting rack over your roasting tray.
Place your ham into the heat source and bake for 30 minutes.
After 30 minutes, start re-glazing your ham with your pastry brush every 10 minutes for an additional 30 minutes.
If you love deep, dark colour in your ham - crank your heat to 200 degrees and continue to cook for an additional 20 minutes. Glazing one more time.
Add to your Christmas Spread!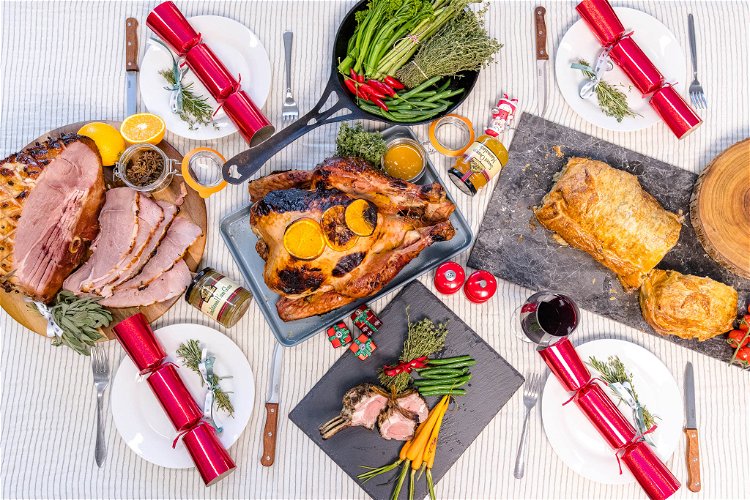 How should I store my ham?
Your Christmas ham may be demolished on Christmas day, but if there is plenty left then you should always keep your delicious ham in a ham bag in the fridge. The best way to store your cooked ham is:
Soak your Ham Bag in 4 cups of water and 2 tablespoons of vinegar.

Make sure to wring out all of the water and place your ham in the ham bag.

Store in coolest part of fridge.
Re-soak bag in solution every few days or when Ham Bag dries out.
You can purchase your very own ham bag here: Ham Bag
---