Adapted from www.foodnetwork.com
00:15 Prep | 00:30 Cook | Serves 4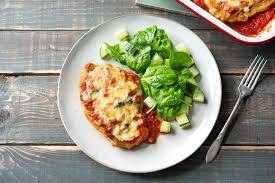 Ingredients

Serves 4
1kg Super Butcher chicken breast steaks

Salt and freshly ground black pepper

2 cups all-purpose flour, seasoned with salt and pepper

4 large eggs, beaten with 2 tablespoons water and seasoned with salt and pepper

2 cups panko bread crumbs (or regular bread crumbs)

1 cup vegetable oil

Tomato Sauce, recipe follows

250g fresh mozzarella, thinly sliced

1/4 cup freshly grated Parmesan

Fresh basil or parsley leaves, for garnish


Tomato Sauce:

 

2 tablespoons olive oil

1 large brown onion, finely chopped

4 cloves garlic, smashed into a paste

one can tinned tomatoes (pureed in a blender)

one can crushed tomatoes (pureed in a blender)

50g tomato paste

1 bay leaf

1 small bunch Italian parsley

1 chile pepper, chopped (optional)

Salt and freshly ground pepper
Directions
Preparation: 30min › Cook: 45min › Ready in: 1hr 15MIN
Preheat oven to 200 °C (180 fan-forced).
Season chicken on both sides with salt and pepper. Dredge each breast in the flour and tap off excess, then dip in the egg and let excess drip off, then dredge on both sides in the bread crumbs.
Divide the oil between 2 large saute pans and heat over high heat until almost smoking. Add 2 chicken steaks to each pan and cook until golden brown on both sides, about 2 minutes per side. Transfer to a baking sheet and top each breast with some Tomato Sauce, a few slices of the mozzarella, salt and pepper, and a tablespoon of Parmesan.
Bake in the oven until the chicken is cooked through and the cheese is melted, about 5 to 7 minutes. Remove from the oven and garnish with basil or parsley leaves.

Tomato Sauce:

Heat olive oil in a medium saucepan over medium heat. Add onions and garlic and cook until soft. Add pureed tomatoes with their juices, crushed tomatoes, tomato paste, 1 cup water, bay leaf, parsley, chili, and bring to a boil. Season, to taste, with salt and pepper. Reduce heat and cook until slightly thickened, about 30 minutes.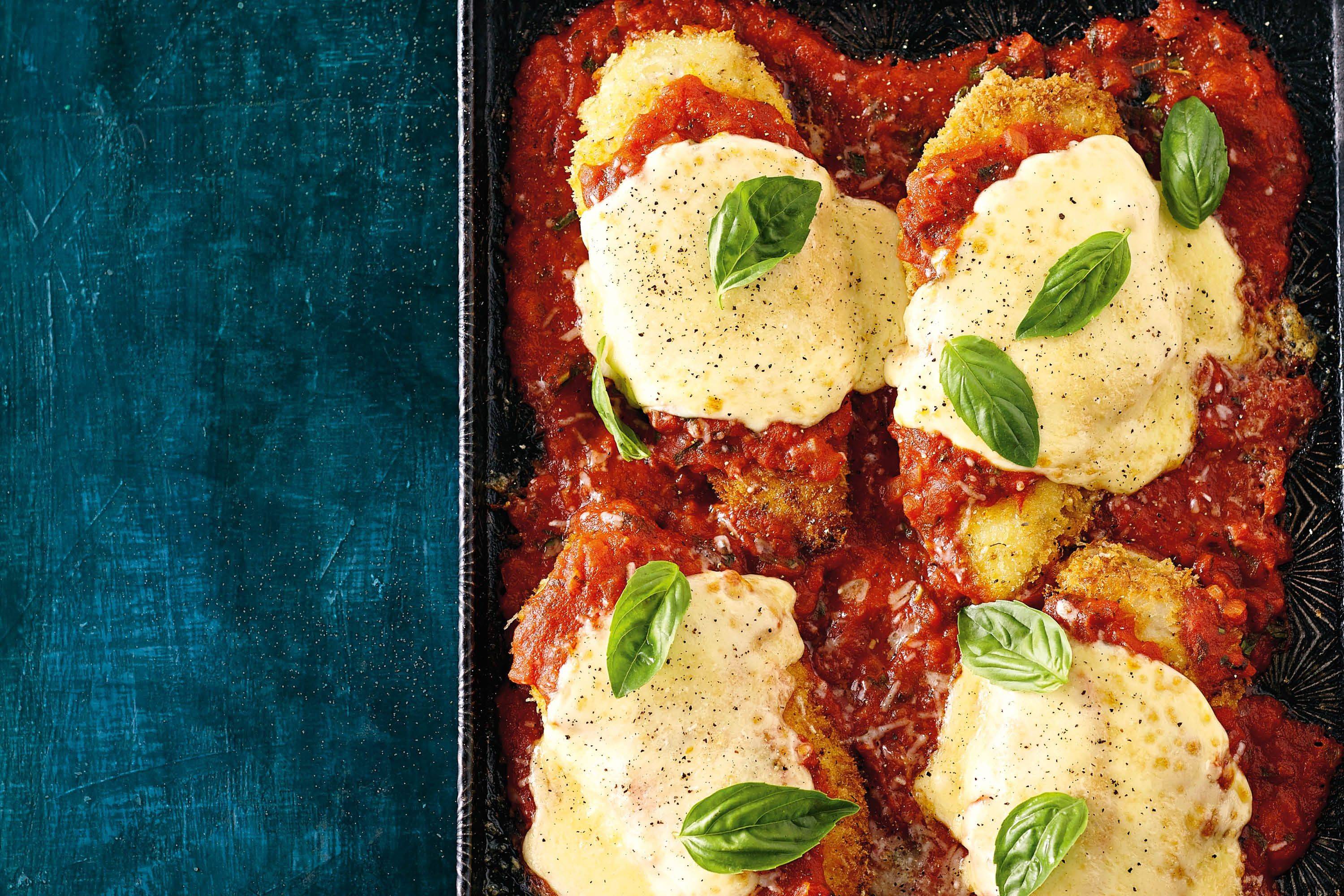 ---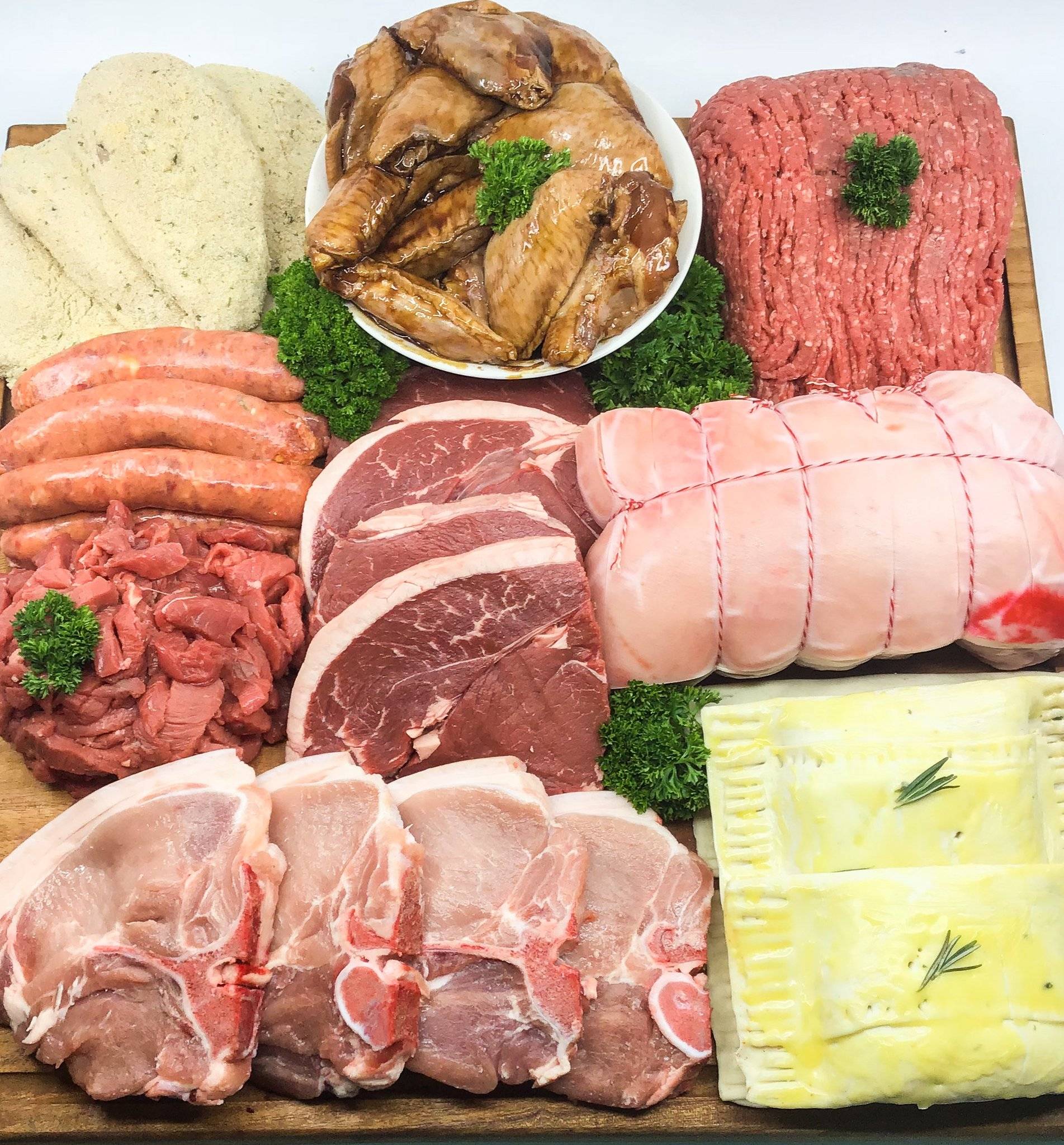 Do you love eating easy, healthy meals? Our value packs are perfect for a growing family! In addition to our 5 meals for $50 packs - we have a fantastic range of ready to ship value packs, order yours online today!