Christmas is around the corner, and you're gearing up for a festive feast that will impress your family and friends at the dinner table. This year, switch things up and challenge yourself by cooking a whole turkey—perhaps a honey-glazed turkey or a traditional roast turkey—instead of opting for store-bought options.
Cooking a whole turkey is indeed a holiday tradition, but getting that juicy roast turkey just right is known to be a culinary challenge. With the right preparation and cooking time, however, you can achieve the perfect succulent bird every time.
Here are some quick and easy tips for cooking a memorable Christmas lunch or dinner at home.

How big does my turkey need to be?
The size of turkey you buy depends on how many people you are feeding, and whether or not you want leftovers (of course you do!). The first to being the super star of Christmas lunch, is to decide whether the Turkey will be your main protein, or part of a larger platter.

As the main protein, we recommend:
3kg – Serves 6-8
4kg – Serves 8-10
5kg – Serves 10-12
6kg – Serves 12-15
7kg – Serves 15-20
How should my turkey be stored?
It's best to store your turkey in the refrigerator. If you have a frozen turkey, this allows you to purchase in advance and store it for longer—very convenient if you're managing oven space and preparing multiple delicious recipes.
Let's talk turkey thawing
To ensure even cooking, your turkey must be thoroughly thawed. In a fridge operating at 4°C, allow 10 to 12 hours per kilogram for thawing.
How to cook a turkey
While there are various methods, oven cooking is a favourite for many due to its straightforwardness and the classic result it yields. Plus, it leaves your slow cooker free for other delicious recipes.
Below, find an easy roast turkey recipe, complete with a citrus glaze:
Citrus Glazed Roast Turkey Recipe
THE GLAZE
In a large saucepan on medium heat, add your chopped dried apricots. Cook for 5 minutes.

Add your orange juice and honey. Bring the water to the boil, once reached - reduce to a simmer and simmer until the liquid reduces by half and is nice and sticky.
THE TURKEY
Preheat your oven to 160c.

Ideally, leave your turkey uncovered in the fridge for a minimum of 4 hours before your cook to dry the skin out.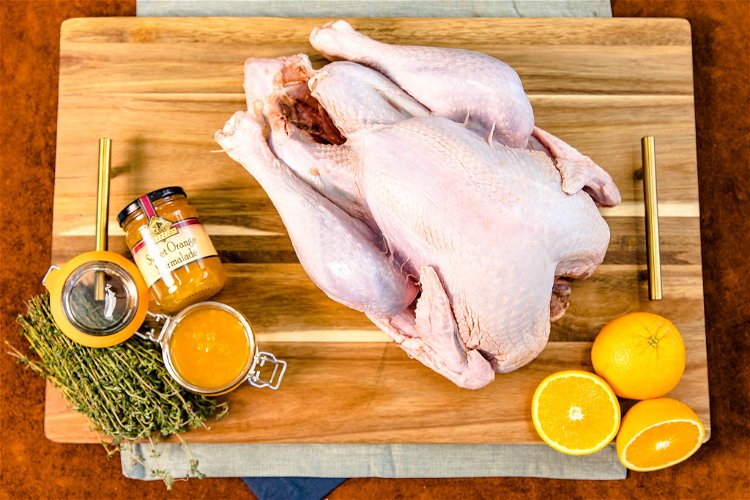 To prep your turkey, season the cavity with Salt, Pepper and Garlic Powder (we use Jackalope's SPG rub).

Making two small incisions behind the breast through the skin, use this opening to massage butter under the skin of your turkey. Add any remaining to the cavity.

Place your whole orange into the cavity to block the entrance as best as possible - this helps to keeps moisture in.

Before roasting, tuck your wings under the bird, and using butchers twine cross over and wings and through the back legs to tie it all together.

This keeps your centre of heat closer to the centre of the bird, making sure your wings and legs don't overcook too much compared to the rest of the bird.

Glaze your turkey by brushing it all over with a pastry brush.

If you are cooking to temperature, we recommend cooking your turkey until it reaches 73c internal.

if the turkey is over 4kg, calculate 20 mins per 1kg, plus 90 mins.

If the bird is under 4kg, calculate 20 mins per 1kg, plus 70 mins.

We like to turn our oven up to 200c for the final 30 minutes of the cook to get some extra colour on the bird.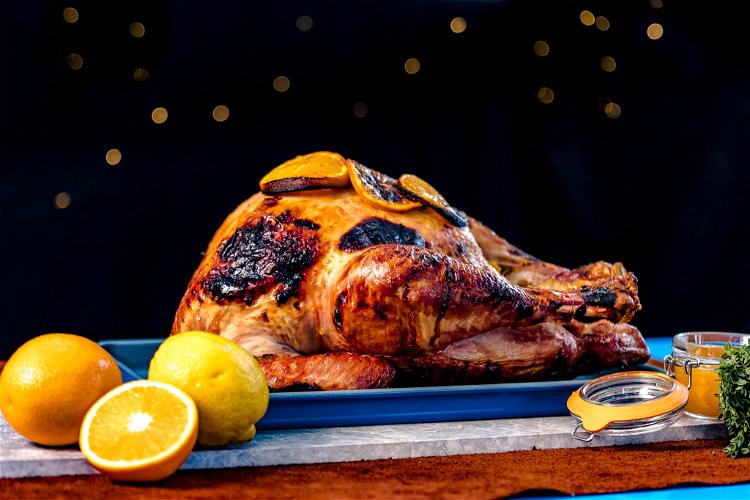 Regardless of your method, in the last 30 minutes of your cook time - add the sliced oranges. (adding them earlier will cause them to burn).

Rest for 20 minutes and add to your Christmas Spread, ready to carve
For the full ingredients list, and to watch a video of Super Chef preparing a Citrus Glazed Roast Turkey for Christmas, view the full recipe here.
Ready to buy your own turkey? Shop our range and prepare to serve up a dish that will be remembered for years to come.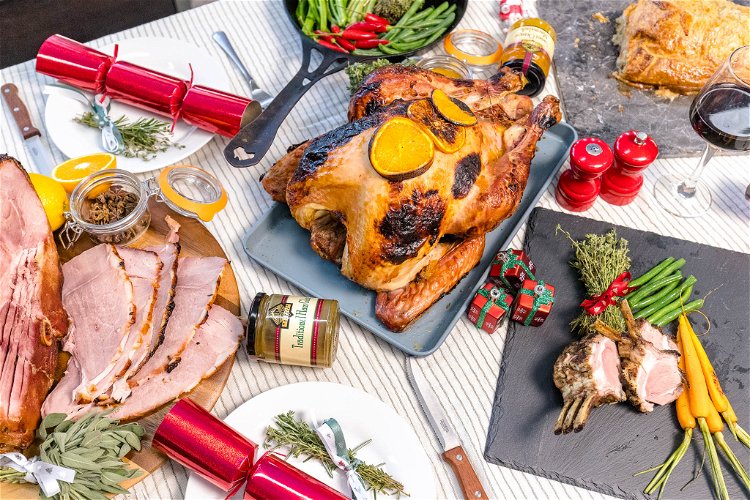 ---